"BKLYN Gold" renting up
October, 2010
Located on Gold Street in downtown Brooklyn
, this 500+ unit multi-building complex known as "BKLYN Gold" designed by AKM is nearing completion and is being occupied in two phases.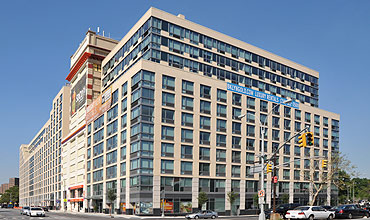 These two high-end rental buildings have facades composed with a contemporary aesthetic including light colored brick, generously sized windows, and a cast stone podium. Architectural detailing is crisp, simple and modern, and abundant natural light in the units and public spaces are key design elements.
Tenant ammenities include an indoor swimming pool and landscaped roof terraces.